Oxford Area Veterans Memorial
New veterans memorial open to public in Oxford
by Ashia Aubrey
Wednesday, May 2nd 2018
OXFORD, Neb. —The Oxford Area Veterans Memorial committee had been working to open its new site for about two years.
There are 289 names on the monuments of those who fought, served and died for our country.
"The Civil War, Spanish and American War, Vietnam, Korea, every conflict that we've been in is pretty well represented here," said Mike Quinn, who is the chairman of Oxford Area Veterans Memorial committee.
Quinn said the the community played a huge part in getting the memorial up.
"Most of the money which is like $155,000 that we've raised so far came in, in 5, 10, 20 dollar donations," Quinn said.
The stones were shipped to Oxford from South Dakota. The Holdrege Monument Company did the unloading and typing of each name on the memorial.
"Each piece weighs about 4,000 pounds - almost two tons," said Steve Klein who works at Holdrege Monument Company.
Sierra Klein also works at Holdrege Monument Company. She hand typed each name on the monuments.
"It was an honor for them to contact us and do this project for them and it's been really fun," Klein said.
The Oxford Area Veterans Memorial is the first memorial of this kind in Oxford.
Mike Quinn said to get a name on it, you do not have to be from Oxford.
"We want to honor veterans worldwide if that's possible," Quinn said.
Community honors veterans with Oxford Area Veterans Memorial dedication
by Connie Weight
Sunday, May 27th 2018
OXFORD, Neb. — A South Central Nebraska community honored area veterans by dedicating a new memorial to them on Sunday.
Dozens came out to help celebrate the newest addition to the community - the Oxford Area Veterans Memorial.
It was completed in just two short years, following an initial delay in the project after the death of the originating force behind the monument, Larry White, who died of cancer in 2016.
"We were just kinda stunned by his loss and I kinda stepped forward and said I'll be your chairman if you guys will kinda follow me," said Oxford Area Veterans Memorial Committee Chair Mike Quinn. "We have a great group of people and boy, it just snowballed, great donors, people giving money like you wouldn't believe, we ran fundraisers every Sunday, served dinners, it just went amazing."
Committee members said the granite and metal art memorial serves as a reminder to honor all veterans, not just those who died for our freedom.
"The significance for me is I have the freedom to come out here and express my beliefs because of our veterans and for those of us coming out here and being a part of this I think they're very proud of it, I'm very proud of it, our committee is very proud of it," Quinn added.
Sculptures and names will continue to be added to the memorial in the future.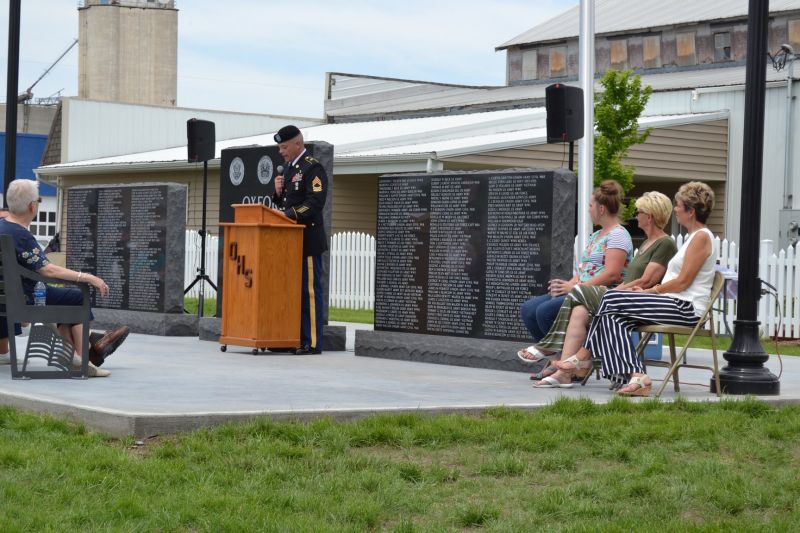 Locations
Oxford Area Veterans Memorial
318 Ewing Street
Oxford, NE 68967